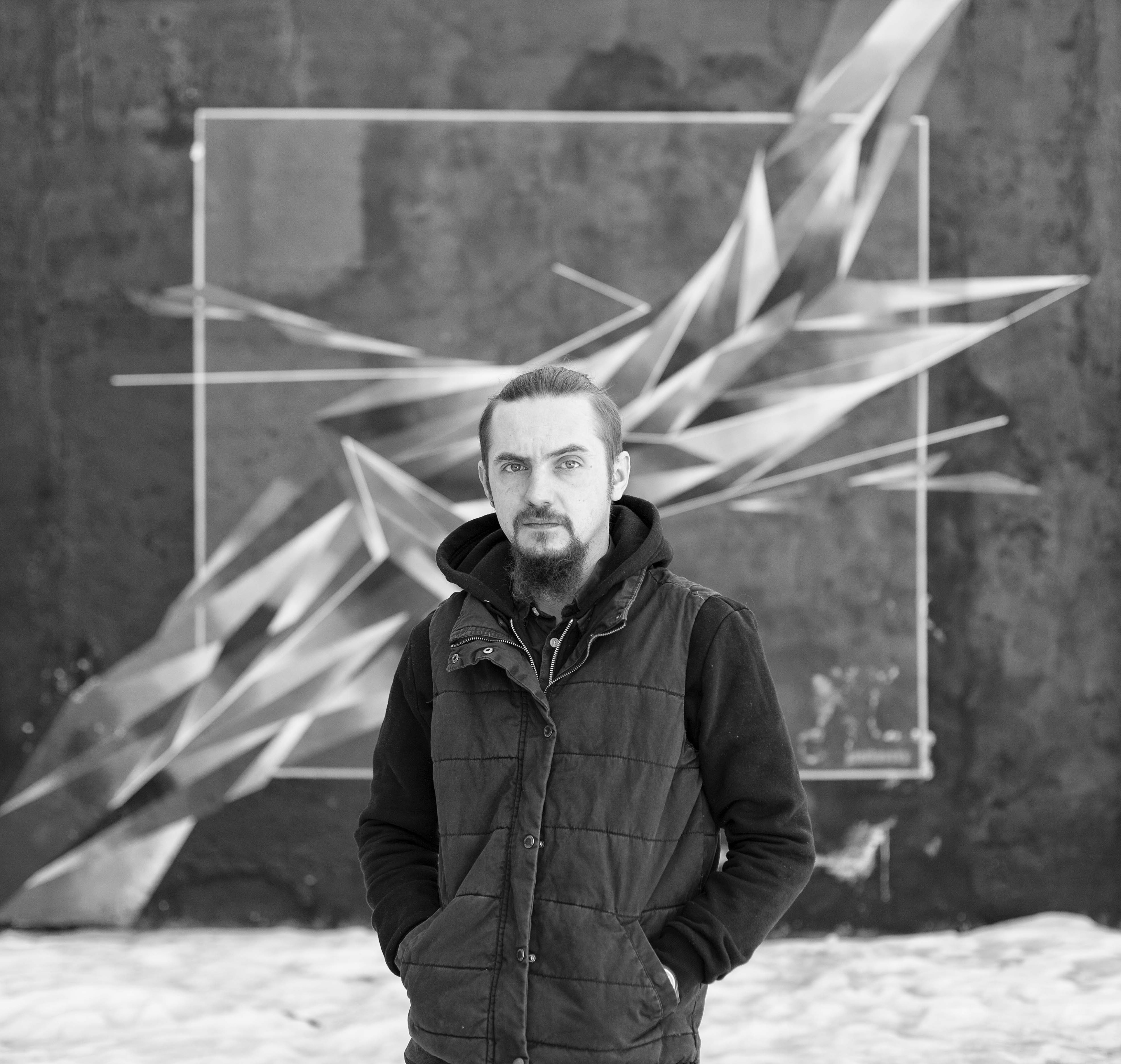 Adrian Platkovsky was born in Cieszyn, Poland in 1986.In 2007 he finished Publicity and Media Profesja School in Bielsko Biala, Poland. In 2010 he started education at University of Arts in Chorzow with specialization Graphics. From 2012 he lives and works in Oslo, Norway. Since 1998 he works with graffiti, street art and from 2012 he makes abstract compositions using conventional painting techniques.
In his work he connects rayonism, futurism and graffuturism.
He is inspired by complex urban architecture as well as patterns of nature.
He participated in variety of street art festivals, cultural events and exhibitions.
Exhibitions/Events:

Fletta #005 Feil Festival, Oslo, Norway 2019

ArtIt + Trance&: OsloArt - artwear pop up & group exhibition, Trance&, Oslo, Norway, 2019                             Oslo Fashion & Art Festival group exhibition, guests VJ Malaga & VJ Espen Moe,                               Mellomstasjonen x The National Gallery, Oslo, Norway, 2018
20th unniversary of creativity WHAT'S NEXT? solo exhibition guest VJ Malaga, Stampen Kulturhus, Oslo, Norway, 2018
Oslo Street Art Festival group show, Elefant, Oslo, Norway, 2018
City Lights/Afterimages, collabo with VJ Malaga, Playground, Warsaw, Poland, 2018
Small works-BIG TALENT group show, Las Laguna Gallery, California, USA, 2017
Part of Gategaver project from Terje Grimen, Norway, 2017
Forms group exhibition, Gallery13, Cieszyn, Poland, 2017
Project BACKPACK The Hollows Art Space Brooklyn, New York, USA, 2016
Project BACKPACK / Error in art solo exhibition, Gallery Container, Tbilisi, Georgia, 2016
Maximum Diversity in Minimum Space group exhibition, Gallery13, Cieszyn, Poland, 2016
At the edge of city group exhibition, GKV Gallery, Oslo, Norway, 2016
Project BACKPACK Decentre, London, United Kingdom, 2016
GATEKUNST VERNISSASJE UTSMYKNING RIFT COLLOSEUM, Oslo, Norway, 2016
Project BACKPACK DVŮR UMĚNÍ PRAHA/ Art residence, Prague, Czech Republic, 2016
Project BACKPACK Anagra Gallery, Tokyo, Japan, 2015
Project BACKPACK Yuyuan Old Street, street performance, Shanghai, China, 2015
Project BACKPACK Rajouri Garden street performance, New Delhi, India, 2015
Out of frame GKV Galleri, Oslo, Norway, 2015
Project BACKPACK VLLA, Amsterdam, Nederlands, 2015
Project BACKPACK Taubanesentralen plener exhibition, Spitsbergen, Norway/Arctic 2015
Project BACKPACK C.I.T.I. Sala Arte Joven, Madrid, Spain, 2015
Project BACKPACK Galleri Podium, Oslo, Norway 2015
Project BACKPACK Paradise Kultur Raum, Berlin, Germany, 2015
Cutting Edges Ada Rudyk and Adrian Platkovsky GKV Gallery, Oslo, Norway 2015
Project BACKPACK Centrala Gallery, Birmingham, United Kingdom 2015
Project BACKPACK Bridge Art Space Bangkok, Thailand 2014
Project BACKPACK Forest 4:8 Gallery Edinburgh Scotland, United Kingdom 2014
Elvelangs i Fakkellys Painting performance Oslo Norway 2014
Project BACKPACK Gallopperiet, Stadens Museum for Kunst Copenhagen Denmark 2014
UMN Sommerleir workshop, life painting As Norway 2014
Project BACKPACK Second Souffle street festival Limoges France 2014
Project BACKPACK Loara street exhibition Paris France 2014
Galgeberg Kreative Verksted Group Exhibition Oslo Norway 2013
Hausmania Festival Group Exhibition Podium gallery Oslo Norway 2013
Ada Rudyk & Adrian Platkovsky Exhibition "Before the end" Český Těšín Czech Republic 2012
Biennale w Wenecji Cieszyńskiej Group Exhibition Cieszyn Poland 2012
United Colours Havirov Czech Republic 2009
Poludniowy Rytm Żory Poland 2010
STYLE COMBAT Niechorze Poland 2009, 2008
Underground Graffiti Jam Opava Czech Republic 2008
400 ml GRAFFITI JAM Bytom Poland 2007
Town colors street art jam Cieszyn Poland 2007